NEW PARENT BASKET
We want to deliver a New Parent Basket to our new families to say CONGRATULATIONS and offer valuable support and resources.
---
CONTACTING DSCNWA ABOUT A NEW BABY: 
Sometimes when a baby with Down syndrome is born, the hospital staff notifies the parents that the DSCNWA has a gift basket available to them and if the family is interested in accepting the gift basket then the hospital contacts our organization on behalf of the family. Family members and friends may also request a basket on behalf of the parents, to be delivered to the hospital or family's home address. Call us at 479-282-3639 or email us at info@dscnwa.com 
No patient information is exchanged unless the family volunteers their information and the HIPAA laws of privacy are respected.
---
NEW PARENT VOLUNTEER TEAM:
We have a dedicated new parent volunteer team that will deliver that has been trained with the DSCNWA guidelines for delivering a basket and is willing to connect with the family in whatever avenues of support the family needs, including visiting with them about being a parent of a child with Down syndrome. 
Several of our parent volunteers are bilingual and come from a variety of cultures. All information that we receive is handled with confidentiality and enables us to stay connected with families, offering continued support in the future if it is wanted. 

DSCNWA works to make sure every new baby born with Down syndrome is celebrated, and that parents receive support as they face a new life with this diagnosis. Because our baskets are catered to parents who have just received a diagnosis, we are unable to fulfill any basket requests for children over one year. Please check out our Programs page to connect with other organizations that support families of children with Down syndrome.
---
BASKETS INCLUDE:
Resources: Baskets include an introduction to the Down Syndrome Connection of Northwest Arkansas (DSCNWA) and also supply information for parents and caregivers to make connections with local organizations and resources that can prove vital moving forward on this incredible journey. 
Each basket will include literature that works to provide multiple perspectives when processing a diagnosis of Down syndrome. Some are included to provide facts about Down syndrome, some to share thoughts and feelings from a parent/caregiver perspective, and some are included to represent individuals with Down syndrome in children's literature. These are especially helpful when explaining Down syndrome to siblings and friends throughout the journey.
 
Baby Items: Celebrating a new baby is a joyous occasion!  We know that sometimes a diagnosis of Down syndrome can be perceived as a negative. Many people don't know what to say, and some replace "Congratulations" with "I'm sorry".  We want to celebrate this precious life with you!  Each basket provides a unique selection of baby items including a handmade blanket and baby's first DSCNWA shirt. It is the hope of organization that each family feel supported, loved, and valued during this exciting time.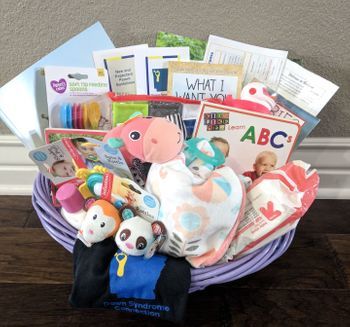 We want to thank those who have sponsored a portion of the new parent baskets this year.  Thank you!
Infantino has donated baby toys for new parent baskets
Handmade baby blanket provided by Phyllis Hilton who donates in honor of a loved one with Down syndrome
Fayetteville Junior Civic League