Uniquely Crafted 2017
Saturday, June 24th!
Join us for the 3rd Annual Uniquely Crafted - Local Bites & Brews Event with all proceeds to benefit the Down Syndrome Connection of Northwest Arkansas. Combine your love of running and beer by participating in the Brew Mile, or join us as a spectator and partake in some local bites from area food trucks, some brews from some of our area's best breweries, and some signature cocktails made with ingredients from local purveyor, Pink House Alchemy. Spread the word and mark your calendar for this truly unique event!
Where:  Botanical Gardens of the Ozarks - 4703 N. Crossover Rd., Fayetteville, AR 72764
When:  Saturday, June 23, 2018 from 5 pm to 9 pm
Who:  *Must be 21 and Up. 
Please note, while the address is in the city of Fayetteville, the ZIP code assigned is 72764, which is Springdale. Therefore your navigational devices may recognize "Botanical Garden of the Ozarks" as a destination in Springdale.
Uniquely Crafted - Local Bites & Brews features the following ticket options:
Beer/Cocktail Garden - $40
Includes entrance to the Beer/Cocktail Garden, food truck tastings, drink samples and a tasting mug
Beer/Cocktail Garden & Brew Mile - $70
Cost includes the Brew Mile race, a soft t-shirt and 4 beers for the race
Heats of 25 runners, beginning at 5:15 pm and running every 25 minutes. (To run with your friends be sure to sign up for the same time slot!)
Chip Timed event  (You could earn bragging rights!)
Awards will be given to the winner of each heat plus the overall male and overall female
Rules are easy...drink a tasty local craft beer, run 1/4 mile, repeat, repeat, repeat until you complete a mile...rest...then go enjoy NWA's local bites & brews
*NEW* Beer/Cocktail Garden & Two Person Brew Mile Relay - $140
Same as above but you get to knock this out with a partner in crime to share the load
Split the running and drinking however you would like as you work together to go the distance
Cost includes the perks listed above for the two of you
*NEW* Beer/Cocktail Garden & Cocktail Quarter Mile - $70
This one is for all of you out there who have zero interest in combining fitness exploits with your Saturday evening
Think of this as more of a leisurely tour around the course with a wonderful cocktail in hand and absolutely no pressure in finishing your drink or even the Quarter Mile
You get all the perks listed above including the fashionable, super comfy t-shirt with absolutely no pressures to perform
#winning
Designated Driver - $10.00
First off...we LOVE you guys and gals!
Are you a designated driver for your party? Gain entrance into the Garden at a discount with your friends and drive them home safely following the event
Designated drivers will be identified with a specific ID bracelet and will not be allowed to partake in alcoholic beverages
All designated drivers will be entered into a drawing for a prize
Brew Mile, Cocktail Quarter Mile or Beer/Cocktail Garden -->  Register HERE
Beer/Cocktail Garden Only or Designated Driver -->  Register HERE
Sponsored by:  Grub's, BlackBox Marketing, Premium Brands & Blew Engineering
A limited number of tickets are available, so be sure to register before they are gone!  Only Beer Garden tickets will be available the day of the event. Brew Mile tickets must be purchased in advance.
---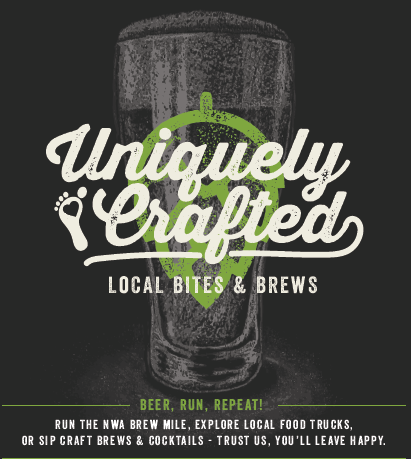 Volunteer opportunities are also available.  Must be 21 and up and available all 6 hours - 4 hours of the event plus setup & teardown. Please contact info@dscnwa.com for more info (and put Volunteer in the subject line) or register under the "How Can You Help" page on the website. 
Please remember to drink responsibly!  Only those 21 and up (with tickets) will be allowed into the venue.  Please note this is not a kid friendly event.
---