Vera's Visionaries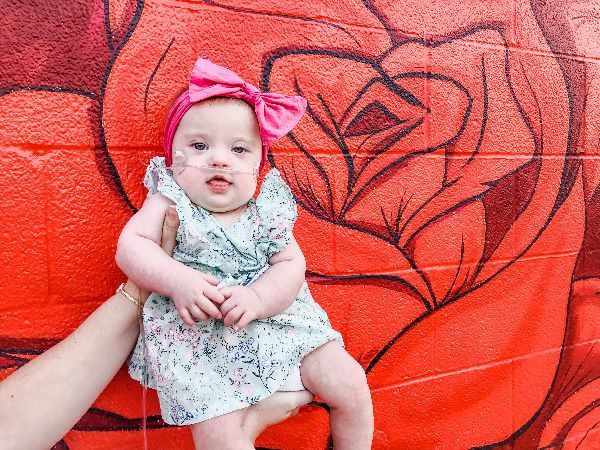 "Introduced in the late 19th century, Vera is from the Russian Vjera (faith). It coincides with the Latin vera (true), and the name is often believed to be derived from this, rather than the former."
Vera is a beautiful family name so it wasn't a name originally chosen because of meaning; however, Vera has shown us how to have "true faith" - in God, in our friends and family, in our new friends at DSCNWA, and in each other. The unknown can sometimes be scary or overwhelming at first but it is our wonderful support system (and the beautiful smile on her face) that has allowed us to have "true faith" in that very unknown. 
There are a number of ways that you can be a part of Vera's Visionaries and provide support:
Join me as we Step Up for Down Syndrome in our annual walk on Saturday, October 5th at Arvest Ballpark (Event 10-1pm, Walk at 12pm). Be sure to register by 9/11 to get my team name on the back of your shirt!

Make an online donation here to Vera's Visionaries to support the DSCNWA as we fund exciting and innovative programs to support the families in NWA blessed by Down syndrome.

Tell others about the Step Up for Down Syndrome Walk and the great work of the DSCNWA organization
October is Down syndrome Awareness month. We hope that you will join us, celebrate the many wonderful qualities & gifts of people with Down syndrome, & walk with us. The Step Up for Down Syndrome is the main fundraiser for the Down Syndrome Connection of Northwest Arkansas.  No matter how you decide to support us, we want to thank you. 
Vera and Family
Register for the Step Up for Down Syndrome Walk
CLICK HERE to register for the Step Up for Down Syndrome Walk on October 5th and to join Vera's Visionaries. 
Our Team Goal & Progress
We have raised $102.00 of our goal.