The Incredible Jack Pack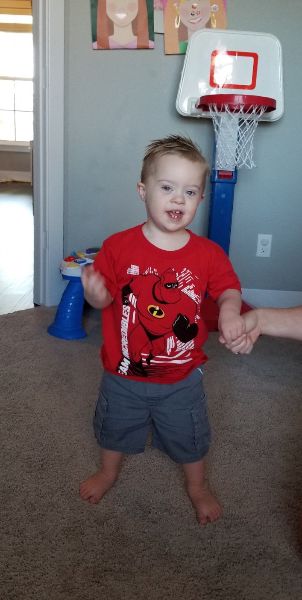 Expectations are funny...they can cause you such pain if you let them. After Jack was born I sat in my favorite coffee shop and I looked at all the quotes on the wall and there was one quote that I will never forget: 'When one door closes another opens. But often times we look so long and so regretfully upon the closed door, that we fail to see the one that is opened for us.' On March 9, 2017 our lives were changed forever but I wish I could have seen the 'opened door' sooner. Jack's Down syndrome diagnosis was a birth diagnosis and everything about it was just delivered all wrong and we left the hospital so lost and defeated. Someday I want to go to hospitals just so I can give mother's in my shoes some comfort and reassurance that everything is going to be okay. And I would tell them that it is okay to grieve, but sometimes you just have to recalculate your plans and expectations...and this new door that God opened for you will be just as fulfilling if not more so! The Down Syndrome Connection of NWA (DSCNWA) gives new moms that hope and provides them with the support, resources and connections that are very much needed after an unexpected diagnosis. Please consider walking and/or donating to this organization with us. We would LOVE for you to be a part of the Incredible Jack Pack and walk with us!! Jack is 2.5 years old and  he is a complete momma's boy and he absolutely loves his oldest sister Lily (not quite feeling Violet yet). He loves any and all music, can eat an entire pizza like his dad, he gives the best hugs, and he is a stubborn mule. No, people with Down syndrome are not happy all the time.  
There are 2 ways that you can be a part of our 'Incredible Jack Pack':
1) If you are local please joins us on our annual Step Up for Down Syndrome walk on Saturday, October 5th at Arvest Ballpark (Event 10am-1pm, Walk at 12pm). Be sure to register by 9/11 to get our team name on the back of your shirt!
2) Make an online donation here to Jack's team to support DSCNWA as we fund exciting and innovative programs to support the families in NWA blessed by Down syndrome. 
Thank You,
Jack and Family
Register for the Step Up for Down Syndrome Walk
CLICK HERE to register for the Step Up for Down Syndrome Walk on October 5th and to join The Incredible Jack Pack. 
Our Team Goal & Progress
We have raised $1,450.00 of our goal.