Step Up For Down Syndrome Walk  |  Details & Registration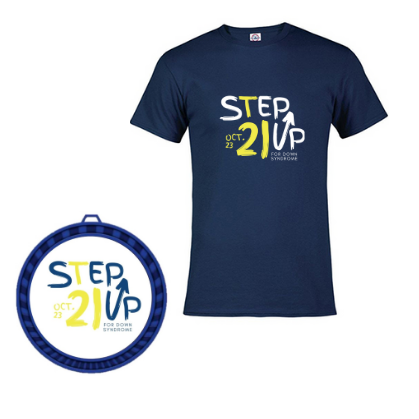 Our Fundraising Progress
We have raised $46,052.00 of our goal.
Create Your Team/Register/Donate HERE
At Down Syndrome Connection of Northwest Arkansas (DSCNWA) our highest priority is supporting the needs of individuals with Down syndrome and their families.  Because many of our families have children with underlying conditions we have decided to do a socially distant Step Up Week like we did in 2020.

This year we invite you to Step Up for Down Syndrome WEEK! You can join in from the safety of your home (with some options to gather in person), during the week of October 18-23th. This week of raising awareness and funds will feature team fundraising prizes, social media challenges, a week-long online auction, and more!  With registration, you will have access to daily virtual events like Bingo, a princess sing-a-long and comedian!  The week will end on Saturday, October 23th with a Drive-Thru Celebration at Arvest Ballpark.

Our mission remains to raise awareness and to come together as a community for true inclusion and respect for individuals with Down syndrome here in Northwest Arkansas. 
This has been a challenging year and a half for everyone.  We are excited to start meeting in person following safety procedures and are working hard to provide support to you, your families, medical personel, and new parents virtually and in-person.  Despite the pandemic, we still have babies being born with Down syndrome, families that need support, community that needs resources, and individuals that need: programming, education and a chance to connect to their friends.  
We are asking you to support us so we can continue supporting those blessed by Down syndrome here in NWA.  Will you join us and step up for Down Syndrome this October?
Create your Team/Register/Donate HERE