Team Bennett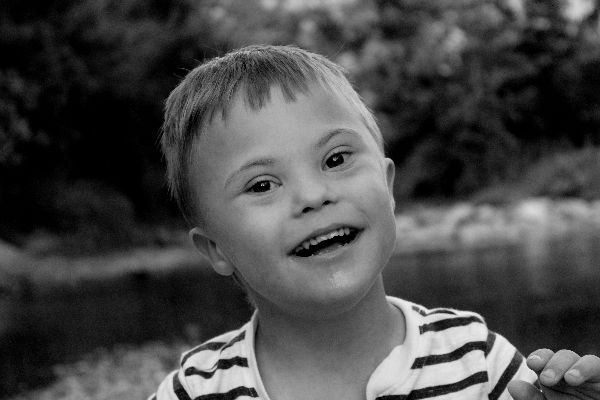 My name is Bennett and I am 4 years old! I absolutely love to say hi to everyone I pass-by.  I love to play basketball with my dad, play catch and read books!  I also love to swing (for hours if I could) and dance!  My mom, my sister Scarlett and I have dance parties in the kitchen and my new favorite thing to do is jump up and down with both feet!
I completed my first season of Miracle League (t-ball) and it was awesome! I had so much fun with the buddies who help me play the game while my parents and sister cheer me on from the bleachers! I also started pre-school!!! School has been a big change for me and for my mom too--she cried my first day and possibly a few days after that ;), but I showed her in my own way that I am okay, enjoying playing with my classmates and learning new things every day! 
My mom (Lyndsey) and dad (Andy) found out about my diagnosis while my mom was still pregnant with me.  Along with my extra awesomeness, my parents also found out that I would need to have heart surgery at only a week old!  Needless to say, my parents were anxious, nervous and highly emotional. While I was still in recovery from heart surgery at Phoenix Children's, my family was contacted by the Down syndrome group there, wow, what a blessing that was for my parents (at least that is what I am told:)).  They had many questions and each one of those came with a rollercoaster of emotions.  All of their questions/concerns were met and addressed with such empathy, compassion and love that when we moved to Arkansas, my family and I really couldn't wait to be part of the group here! 
My mom currently serves on the board for DSCNWA and enjoys helping other families feel supported just like she and my dad were when they found out about my diagnosis.  So please consider helping out! 
There are a number of ways that you can be a part of "Team Bennett" and provide support:
Join me as we Step Up for Down Syndrome in our annual walk on Saturday, October 5th at Arvest Ballpark (Event 10-1pm, Walk at 12pm). Be sure to register by 9/11 to get my team name on the back of your shirt!

Make an online donation here to Team Bennett to support the DSCNWA as we fund exciting and innovative programs to support the families in NWA blessed by Down syndrome.

Tell others about the Step Up for Down Syndrome Walk and the great work of the DSCNWA organization
October is Down syndrome Awareness month. We hope that you will join us, celebrate the many wonderful qualities & gifts of people with Down syndrome, & walk with us. The Step Up for Down Syndrome is the main fundraiser for the Down Syndrome Connection of Northwest Arkansas.  No matter how you decide to support us, we want to thank you. DSCNWA has made a huge difference for our family & has provided us support in many ways. We hope to see you out there! 
Thank you again for being a part of "Team Bennett" and for your support, encouragement and love.
Much love and gratitude,
Bennett and Family
Register for the Step Up for Down Syndrome Walk
CLICK HERE to register for the Step Up for Down Syndrome Walk on October 5th and to join Team Bennett. 
Our Team Goal & Progress
We have raised $1,050.00 of our goal.