Mollie Moo's Crew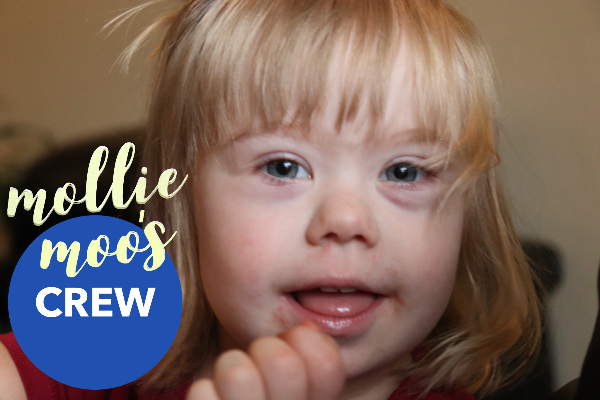 I am 3 years old! I love making messes and eating ketchup all alone! Breads and sweets aren't my thing, but give me all the avocados and I will be your best friend. If you want to know what makes me so special, spend 5 minutes with my family and they will tell you all the details. My big sister, Maggie, is my best friend and I love following her around and taking her lovies and running away.

I am a hardworking girl that works hard. I go to Children's Therapy Team for 6 hours a week and my daddy is my personal chauffeur and cheerleader.

My mommy loves to hold me, and kiss me, and tell me how much she loves me. I won't say momma yet, but I will soon. Until then, "daddeeeeee" is my word of choice.

All the love and support you give will benefit my family, my friends and me. It will also support parents, along with their little babies, get love and support from Down Syndrome Connection of NWA from day one.
There are a number of ways that you can be a part of "Mollie Moo's Crew" and provide support:
Walk with me in the Step Up for Down Syndrome Walk on Saturday, October 5th at Arvest Ballpark-- be sure to register with Mollie Moo's Crew!

Make an online donation here to Mollies Moo's Crew to support the walk and the DSCNWA

Tell others about the Step Up for Down Syndrome Walk and the great work of the DSCNWA organization
October is Down syndrome Awareness month. We hope that you will join us, celebrate the many wonderful qualities and gifts of people with Down syndrome and walk with us. The Step Up for Down Syndrome Walk is the main fundraiser for the Down Syndrome Connection of Northwest Arkansas.
Thank You!
Mollie and Family
Register for the Step Up for Down Syndrome Walk
CLICK HERE to register for the Step Up for Down Syndrome Walk on October 5th and to join Mollie Moo's Crew. 
Our Team Goal & Progress
We have raised
$370.00
of our
$500.00
goal.