Lottie's Love Bugs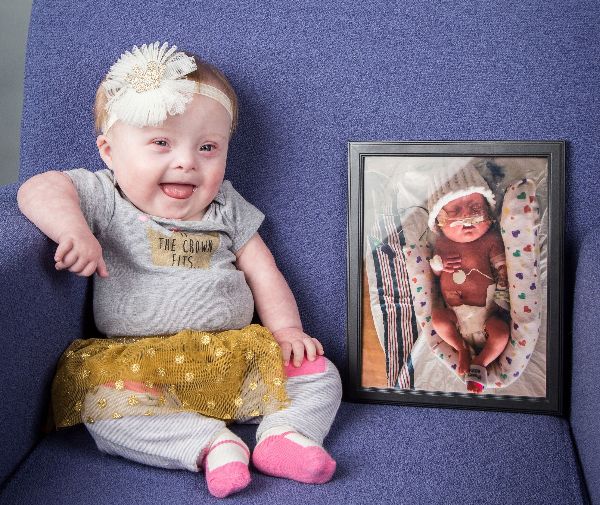 Meet our Little "Lottie Bug" (Charlotte)!  She has overcome so much in her short 15 months: Born early at 31 weeks, duodenal atresia surgery at 2 weeks old, g-tube surgery at 14 weeks old, 6 IVIG plasma transfusions, and 111 day NICU stay.  She is the strongest person we know and has taught us that no accomplishment is too small — every step forward is a victory and cause to celebrate!  The quote, "And though she be but little, she is fierce…" truly represents her personality! Charlotte loves playing peek-a-boo,  pulling hair, waving, and crawling all over the place. She has our whole heart and the world is a better place with her in it!
At 13 weeks pregnant, we found out Charlotte might be born with Down Syndrome from a prenatal screening test. Because Charlotte is so incredible, it's easy to say I wish I would have known then what I know now, but it's not that simple. The diagnosis was hard and the challenges that came with her prematurity added to our fears. During that time, our biggest comforts were the visits from the Down Syndrome Connection of NWA.  They celebrated Charlotte's arrival,  provided us community resources, invited us to local family events, and gave us a new parent basket with gifts! We have learned so much from DSCNWA about down syndrome and opportunities for Charlotte. The shared personal experiences from other parents on health issues, educational training, and community connections have been invaluable.
There are a number of ways that you can be a part of Lottie's Love Bugs and provide support:
Join us as we Step Up for Down Syndrome and make our buddy walk team debut on Saturday, October 5th at Arvest Ballpark (Event 10-1pm, Walk at 12pm). 

Make an online donation here, to Lottie's Love Bugs to help DSCNWA fund exciting and innovative programs that support families in NWA.

Tell others about the Step Up for Down Syndrome Walk and the great work of the DSCNWA organization.
October is Down syndrome Awareness month. We hope that you will join us for the Step Up for Down Syndrome Walk to celebrate Lottie Bug and support the Down Syndrome Connection of Northwest Arkansas (DSCNWA).  This is an incredible organization that has personally touched us. They provide so many resources to families in our community year-round: new parent baskets, classes, programs, and social events to connect individuals and families blessed by Down Syndrome. No matter how you decide to support us, thank you!
Charlotte and Family
Register for the Step Up for Down Syndrome Walk
CLICK HERE to register for the Step Up for Down Syndrome Walk on October 5th and to join Lottie's Love Bugs. 
Our Team Goal & Progress
We have raised $394.00 of our goal.