Exceptionally Elias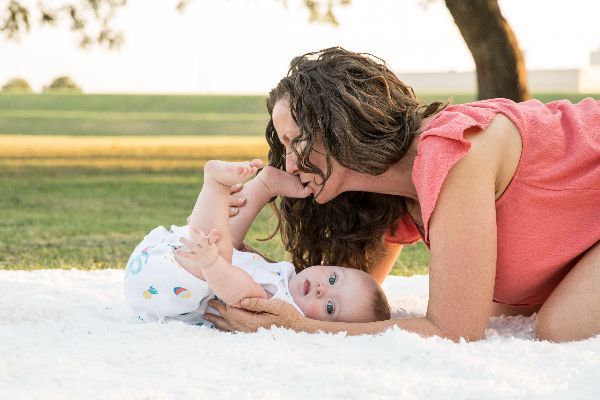 Elias is nine months old and his best friend is his four-year-old brother Hurschell. He just lights up every morning when his big brother comes in to tell him good morning. 
Elias loves to "talk " and doesn't know a stranger.  He greets everyone with a full body smile by waving his arms and kicking his legs.  
He loves staring at his hands, playing with his feet and can watch a fan spin around for hours!  But those interest are quickly changing as he is beginning to understand he could be up running around chasing his big brother.
We decided to birth in Texas and did not know that Elias would be rocking an extra chromosome. He was in such a hurry to meet us that he came nine days early and beat his daddy by two hours!  But thanks to the wonders of technology, Daddy did not miss the miracle of his birth and was able to watch Elias's entrance into the world via FaceTime. At this point his dad noticed his special facial features and asked if he had Down Syndrome.  The midwives did not think he had the soft markers but Daddy's intuition was correct. We spent 24 days in the NICU at Cook's Children's Hospital in Fort Worth. It was a very challenging time because it was such a shock but our friends and family came along beside us and supported us in more ways than we knew was even possible. The doctors and nurses were wonderful and took excellent care of our baby boy. They even connected us with the folks at the Down Syndrome Connection of Northwest Arkansas before we left the NICU.  So many people reached out when they heard of Elias's diagnosis. We discovered old friends that have been touched by someone with Down Syndrome and new friends that are walking the road encouraging us along the way. Friends from our gym, Crossfit Reverence, work at Children's Therapy T.E.A.M. and had amazing therapists lined up before we even made it back to Arkansas.  A welcoming basket full of books, toys, and useful items to welcome our new little bundle of joy. It was even hand-delivered by Cindy Meza from the Down Syndrome Connection. We are so grateful for the Down Syndrome community. That is why we are asking for your support,  so other families who receive a diagnosis will know there is a HUGE community that is "stepping up" for their child with Down Syndrome.
There are a number of ways that you can be a part of Exceptionally Elias and provide support:
Join me as we Step Up for Down Syndrome in our annual walk on Saturday, October 5th at Arvest Ballpark (Event 10-1pm, Walk at 12pm). Be sure to register by 9/11 to get my team name on the back of your shirt!

Make an online donation here to my team to support the DSCNWA as we fund exciting and innovative programs to support the families in NWA blessed by Down syndrome.

Tell others about the Step Up for Down Syndrome Walk and the great work of the DSCNWA organization
October is Down syndrome Awareness month. We hope that you will join us, celebrate the many wonderful qualities & gifts of people with Down syndrome, & walk with us. The Step Up for Down Syndrome is the main fundraiser for the Down Syndrome Connection of Northwest Arkansas.  No matter how you decide to support us, we want to thank you.
Elias and Family
Register for the Step Up for Down Syndrome Walk
CLICK HERE to register for the Step Up for Down Syndrome Walk on October 5th and to join Exceptionally Elias. 
Our Team Goal & Progress
We have raised $811.00 of our goal.