Step Up For Down Syndrome Walk  |  Details & Registration
 

Our Fundraising Progress
We have raised $3,000.00 of our goal.
At Down Syndrome Connection of Northwest Arkansas (DSCNWA) our highest priority is supporting the needs of individuals with Down syndrome and their families. All our programs and resources have shifted to digital spaces in light of COVID-19. To protect the safety and health of our supporters and those we serve, we have also decided to make changes to our annual Step Up For Down Syndrome Walk in October. 

This year we invite you to Step Up for Down Syndrome WEEK! You can join in from the safety of your home, during the week of October 19-24th. This week of raising awareness and funds will feature team fundraising prizes, social media challenges, a week-long online auction, and more!  With registration, you will have access to daily virtual events like Bingo, a scavenger hunt, behavior help, a princess sing-a-long and comedian!  The week will end on Saturday, October 24th with a Drive-Thru Celebration at Arvest Ballpark.
Register HERE

Our mission remains to raise awareness and to come together as a community for true inclusion and respect for individuals with Down syndrome here in Northwest Arkansas. 
This year with COVID-19, we know so many have been affected physically, financially, and emotionally. Despite the pandemic, we still have babies being born with Down syndrome, families that need support, community that needs resources, and individuals that need: programming, education and a chance to connect to their friends. Even though this event and life looks different this year, our mission and need for funding remains the same. 
We are asking you to support us again and enjoy all the fun we have planned from the safety of your home and car.  Will you join us and step up for Down Syndrome this October?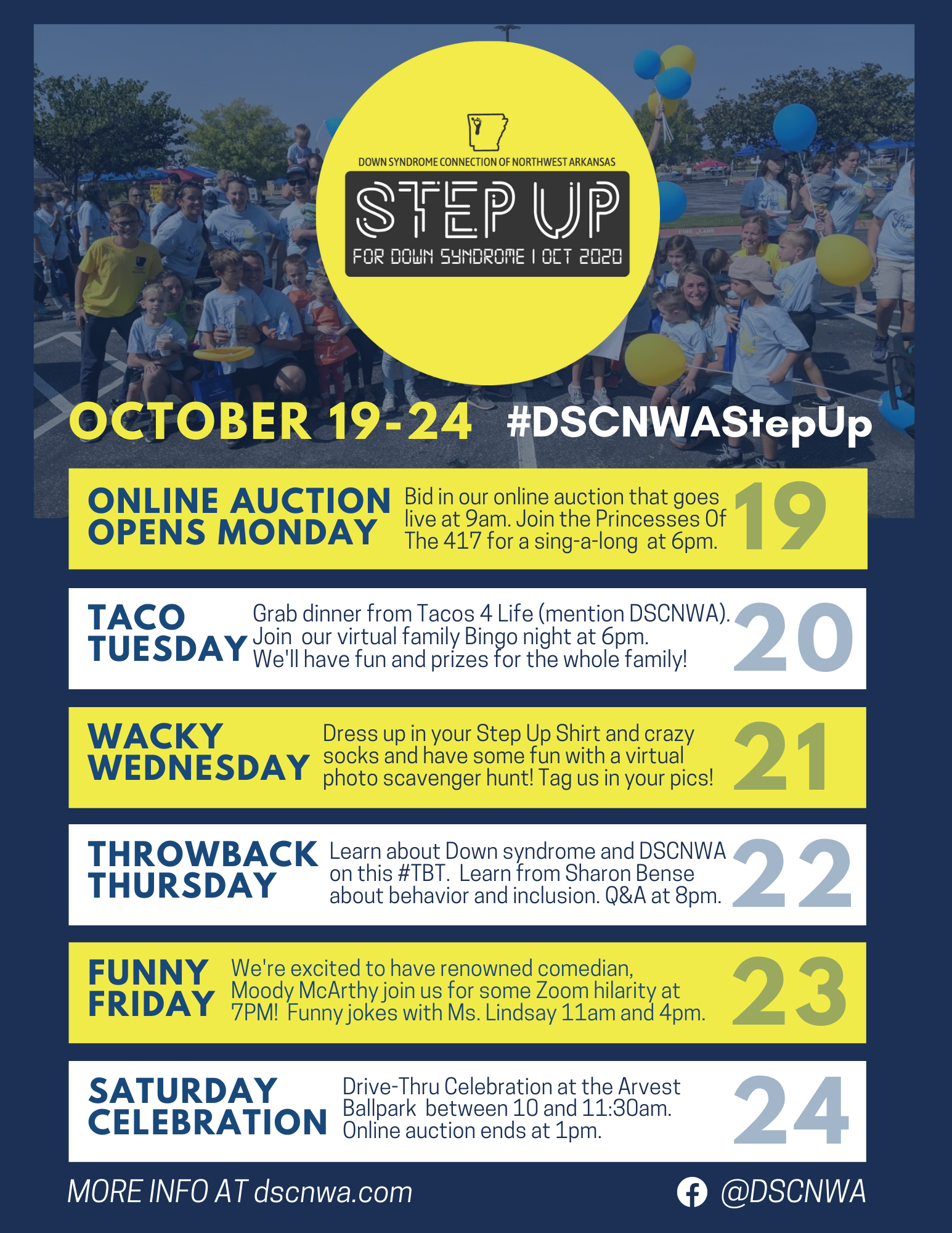 Create your Team/Register/Donate HERE