Wood's Forest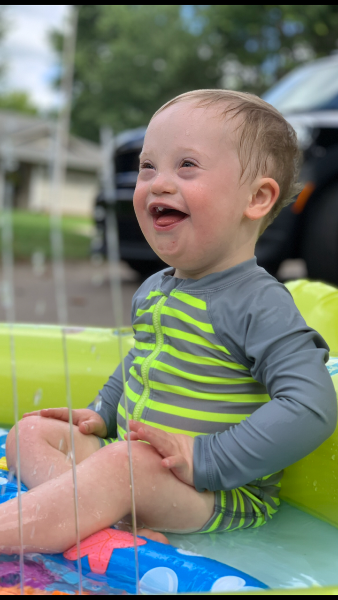 Woodrow turns two in September and is such an amazing little boy. He loves to read books, being read to and reading to himself. He loves music, playing the piano with his sister Kenzie, dancing to big Sissy's music, and all silly songs that Daddy and Mommy make up! Woodrow LOVES the water and took swim lessons for the first time this summer. He has recently found a love for climbing! We always have to be aware of new things he can climb on to. Woodrow always has a ready smile and really enjoys meeting new people! He is a great traveler and is pretty happy no matter where we are as long as we are all together! Wood has an older brother, Nick, in college and an older sister, Kendrick, starting college in August, and Kenzie who is 10 and starting 5th grade! No words can describe the love they share and how much they love their little brother! He is adored by all and has a large and ever growing fan club! We are so thankful to God that he sent Woodrow to us! We definitely did not know all that we were missing without him in our lives.
Wood's Forest team will be helping to raise funds to support the Down Syndrome Connection NWA. The funds raised are used for new parent baskets, like the amazing one we received after Wood was born and still in the NICU, and to provide educational and social programs throughout the year for individuals and families blessed by Down syndrome.  
There are a number of ways that you can be a part of "Wood's Forest" and provide support:
Join us as we Step Up for Down Syndrome in our annual walk on Saturday, October 5th at Arvest Ballpark  (Event 10-1pm, Walk at 12pm).  Registration for the walk includes a t-shirt. Be sure to register by 9/11 to get "Wood's Forest" team name on the back of your shirt!

Make an online donation here to "Wood's Forest" team to support the DSCNWA as we fund exciting and innovative programs to support the families in NWA blessed by Down syndrome

Tell others about the Step Up for Down Syndrome Walk and the great work of the DSCNWA organization
October is Down syndrome Awareness month. We hope that you will join us, celebrate the many wonderful qualities and gifts of people with Down syndrome and walk with us. The Step Up For Down Syndrome Walk is the main fundraiser for the Down Syndrome Connection of Northwest Arkansas.
Thank you all for your love and support of our family and for already being a part of Wood's Forest! We hope you will come out and walk with us on October 5th!
Much Love,
The Bailey Family
Register for the Step Up for Down Syndrome Walk
CLICK HERE to register for the Step Up for Down Syndrome Walk on October 5th and to join Wood's Forest.  
Our Team Goal & Progress
We have raised $1,337.00 of our goal.