Finley Unlimited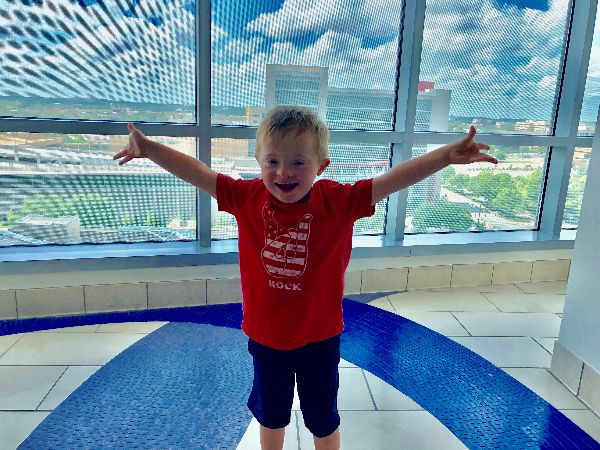 Greetings Fin's Fans!
It's time to get excited about Finley Unlimited 2019!  Once again, our team will walk to support INCLUSION and AWARENESS for persons with Down syndrome with the Down Syndrome Connection of Northwest Arkansas (DSCNWA). 
Please join us in person or in spirit (a virtual walker and team member)!  We will walk at Arvest Ballpark in Springdale, AR on October 5th at NOON.  
A few things are a little different this year:
Event Details: Event starts at 10 am, but the actual walk is at Noon. Feel free to come whenever you want to enjoy the silent auction and games! Our team will meet near the gates around 11:45.

Step 1: Registration cost: $25 (13 years +), $15 (2-12 years)

Step 2: In addition to the registration fee, you may also donate to our team via the link below.

Step 3: Please wear the event t-shirt during the walk. 

Step 4: Finley Unlimited gear is still available, though! Order your hats or t-shirts here for every other day of the year! (We plan to wear hats at the walk)
T-SHIRT/HAT ORDERS: https://www.b-unlimited.com/collections/finley-unlimited
If you cannot join us for the race, follow steps 2 and 4!!
Finley update: He continues to love elementary school and is meeting milestones every day!  His new fun adventure is drum lessons. If you see him, ask about cymbals, kick drums, snares and high hats! A big celebratory note – In June, he graduated to the Long Term Survivor Program in his hematology/oncology treatment!  So many things to be proud of and thankful for!
We certainly understand if your physical or financial presence is not possible.  Our true goal is to do our small part to celebrate the infinite value that all persons with Down syndrome bring to the world.  Any donation you make will go directly to support education, advocacy and inclusion for Finley and his peers with Down syndrome. 
We are so thankful for your constant support and encouragement of our family!
Blessings to all!
Lisa, Lincoln, Finley, Griffin and Palmer
Register for the Step Up for Down Syndrome Walk
CLICK HERE to register for the Step Up for Down Syndrome Walk on October 5th and to join Finley Unlimited. 
Our Team Goal & Progress
We have raised $5,584.00 of our goal.