Camp Ella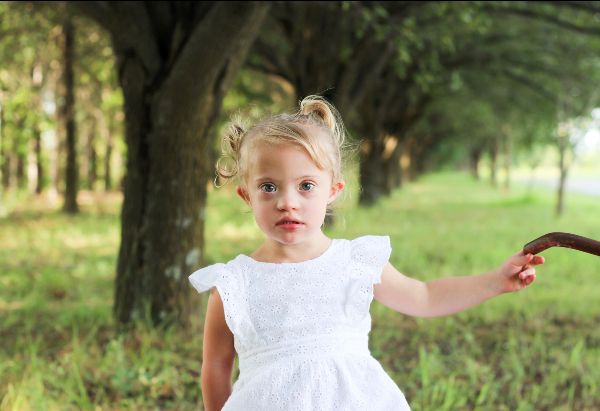 Though she be but little she is fierce!
Meet our sweet Ella. Ella is three and a half years old and the light of our lives. This girl is sweet, silly, strong, strong willed, determined and full of fun! Ella loves to dance (greatest showman and taylor swift preferred) and make art wherever she goes. no paper no problem! Walls, furniture, her body, siblings and floors all make a great canvas for her. Ella also loves the water. Whether it's playing with her water table, a trip to the lake or just splashing in the bath tub, water is her happy place. Ella is the youngest of ten kids and has been the absolute best finale our family could ever ask for.
When Ella was born and we first heard those words Down Syndrome it filled us with a lot of fear. We didn't know then all the awesomeness that comes with that extra chromosome. we also didn't know that we'd have so many amazing people come into our lives to help us navigate these unknown waters. They say it takes a village. with Ella I feel like we've had a whole country! a big big part of that has been organizations like the down syndrome connection of northwest Arkansas. They provide programs, resources, classes and support for people with down syndrome and their families. The step up for down syndrome walk is the DSCNWA'S biggest fundraiser. The money raised funds almost everything they do for the whole year. please join us in supporting the DSCNWA so they can continue providing so many wonderful resources to so many wonderful families in our community. 
there are a number of ways you can join Camp Ella and provide support:
Join us at the step up for down syndrome walk on Saturday, October 5th at Arvest Ballpark. (event 10-1pm, walk at 12pm) to get our team name on the back or your shirt register by 9/11.

Make an online donation here to Ella's team to support the DSCNWA and all the wonderful support they provide to families blessed by down syndrome.

S

pread the word! invite others to join Camp Ella and support the DSCNWA!
"we make a living by what we get. We make a life by what we give."
                                   Winston S Churchill
Register for the Step Up for Down Syndrome Walk
CLICK HERE to register for the Step Up for Down Syndrome Walk on October 5th and to join Camp Ella. 
Our Team Goal & Progress
We have raised $270.00 of our goal.