Step Up For Down Syndrome Walk  |  Details & Registration
 
In light of Covid 19 we have also decided to make changes to our annual Step Up For Down Syndrome Walk in October- STAY TUNED FOR DETAILS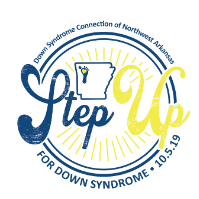 2019 online registration has ended.  
This year's Down Syndrome Connection of NWA annual walk, Step Up for Down Syndrome, will be held on Saturday, October 5th from 10am - 1pm at the Arvest Ballpark parking lot (the walk itself will begin at noon). The participants will gather for a fun, half mile walk around Arvest Ballpark in Springdale, AR. 
Each year all the families of the Down Syndrome Connection of Northwest Arkansas (DSCNWA) gather their family and friends, to take part in a wonderful awareness walk. This event is the main fundraiser for DSCNWA, and it enables us to continue to grow the programs and services that we offer to our local families.
To donate on behalf of a team and support the Down Syndrome Connection of NWA, please visit the "Our Teams" page within the Step Up for Down Syndrome Walk section and select the team you would like to donate to.  
When: October 5th 10-1pm
Where: Arvest Stadium Parking Lot
Cost: $25 (13+yrs) $15 (2-12yrs)
Why: Raise money to support the 250+ families blessed by Down syndrome in NWA and to have fun!!

How: Money raised makes new parent baskets, allows us to have an office and phone number, pays our program coordinator so that we can have 4 programs a month targeting skills and interests of specific age groups instead of 1 activity a month that often only applies to one age group. Lets us finally look at how we can do more---- we hope to have a DS conference here next year, we are working on a new parent magazine filled with resources and stories, medical checklists and about early intervention and funding- everything you need to know when you get a diagnosis, reaching out to better help medical professionals deliver a Down syndrome diagnosis, and would love to look at how we can help educators.
What:
Silent Auction
KFC Lunch
Hot Dogs, snow cones, cotton candy, popcorn
Brock Entertainment
Games
Crafts
Inflatables
Firetruck
Dunk Tank
Meet princesses and super heroes!
Learn about Down syndrome
DS and DSCNWA Merchandise
FUN FUN FUN!
DEADLINES:
Register and order medal 9/5
Team name on back of shirt 9/11
Guaranteed shirt size to pick up on walk day 9/23
Raise $250 to get picture on scoreboard 9/25 8pm
Fundraising Team Incentives deadline 9/28 noon
Our Fundraising Progress
We have raised $65,479.00 of our goal.