Emmy's Entourage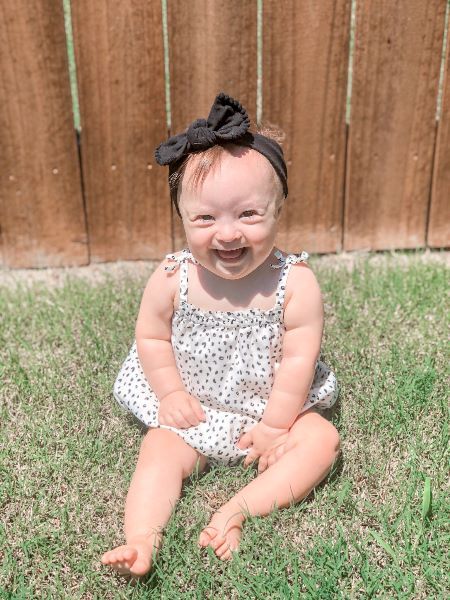 Emersyn (Emmy) is our sweet, energetic 16 month old! She loves for anyone to give her attention, has the sweetest smile, and will "talk" to anyone or anything. I'm certain she will have a lot to say when she can really tell us how she feels! Her favorite things include: taking baths, reading books, dancing to Baby Shark, and crawling all over the place.
When I was about 18 weeks pregnant, we found out Emmy would be born with Down syndrome. We knew nothing about it and were definitely worried and scared at first. One of the biggest comforts for us was a visit and a new parent basket from the DS Connection of NWA. We have also been so encouraged and felt very welcomed at the recent events we have attended. There is nothing like being surrounded by people that know exactly what you're going through. We are excited to attend more events and watch Emmy grow up with all of her fabulous friends!
There are a number of ways that you can be a part of Emmy's Entourage and provide support:
Walk with me in the Step Up for Down Syndrome Walk on Saturday, October 5th at Arvest Ballpark

Make an online donation here to my team to support the Step Up for Down Syndrome Walk and the DSCNWA

Spread the word!
October is Down syndrome Awareness month. We hope that you will join us, celebrate the many wonderful qualities & gifts of people with Down syndrome, & walk with us. The walk is the main fundraiser for the Down Syndrome Connection of Northwest Arkansas.  No matter how you decide to support us, we want to thank you. 
Thank you again for being a part of Emmy's Entourage & for your support, encouragement & love.
Much love and gratitude,
The Holman's 
Register for the Step Up for Down Syndrome Walk
CLICK HERE to register for the Inclusion Walk on October 5th and to join Emmy's Entourage!  
Our Team Goal & Progress
We have raised $765.00 of our goal.