Brooks' Battalion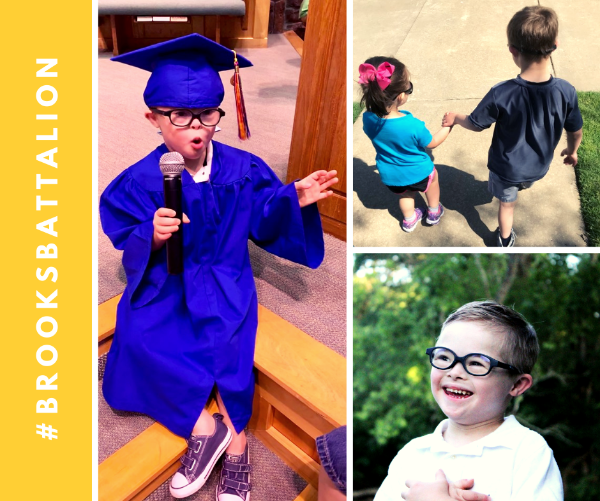 Hi, my name is Brooks and I'm a big Kindergartner this year! I happen to have Down syndrome, but that is not the most important thing about me. I give the best of bear hugs of any 5.5 year old, dance like nobody is watching (but I really want you to watch me), and have a radiant smile that will melt you to the core. I'm also a really good big brother to my sister, Harper, and do all things a good big brother should do including tattling on her, driving her crazy and following her every move. As much as I drive her crazy though, she's also my very best friend in the whole wide world. 
I love to be in center stage (microphone and all) and am not afraid to step out and do things my way. I've accomplished a lot of big tasks this year including more progress in potty training, learning to spell my name using my Augmentative Communication device and graduating preschool. I love to read books and I cherish all of the time I get to spend with my family.
This year I started Kindergarten at Willowbrook Elementary School in Bentonville and I already have many friends that love me & help me learn & grow every day. Not only am I learning from them, but I hope I can teach them about what inclusion looks like and how to love others that may be different from themselves. We never know the path someone's life will take but my hope is that their interaction with me today will shape their future life or give them a different perspective. I continue to be blessed with caring teachers, staff and therapists who are a part of my tribe, a part of my story. Thank you for being you.
My story began when I arrived a few weeks early & had to have many doctors & nurses fighting for me because I wasn't able to fight for myself. Five full minutes after birth and intense CPR, I finally took my first breath. After that first breath I started fighting alongside the Mercy NICU nurses, doctors, therapists, and of course my parents. Before I knew it I had a whole group of family members, friends & complete strangers who helped to give me the strength & courage I needed to survive. I have faced many other challenges since my birth, but it's with your help that I have continued to fight and overcome each new obstacle that comes my way. You have supported me, shown me love and patience and you have paved the way for my success. Whether you've been rooting me on since day one, or you are just getting to know me, you have had an impact on my life.  Thank you making a difference by including me in your life and for being part of my battalion.
One of the biggest blessings my parents had (besides me of course) was the outreach of the Down Syndrome Connection of Northwest Arkansas (DSCNWA). My parents had a million questions about my diagnosis when I was born and this group not only came by and visited at the hospital, but provided us with resources and support where we needed it. They continue to support us to this day and we want to give back so they can help even more families and save Down syndrome. We appreciate any and all contributions to our cause to help us meet our goals in giving back, being kind, and paying it forward. We truly are "The Lucky Few".
XOXO,
Brooks McGrew
Lieutenant Colonel 
Brooks' Battalion
Register for the Step Up for Down Syndrome Walk
CLICK HERE to register for the Inclusion Walk on October 5th and to join Brooks' Battalion.
Our Team Goal & Progress
We have raised $1,000.00 of our goal.