Mollie Moo's Crew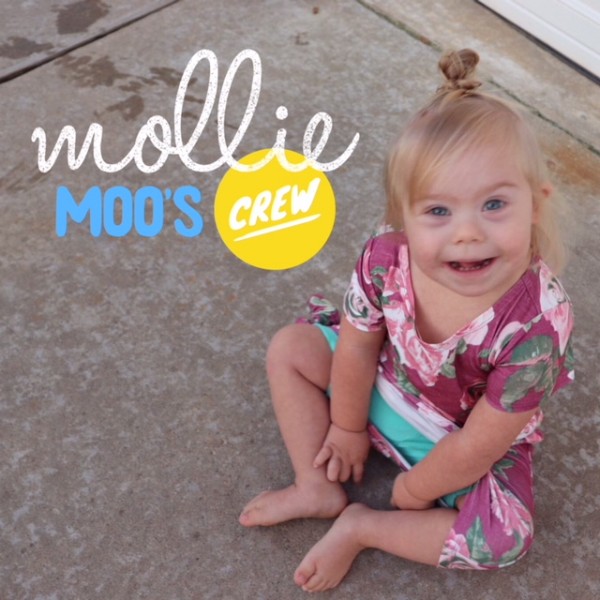 We are proud of Mollie and all of her growth. She's a playful little two-year-old girl that loves to pretend with her babies, eat large amounts of avocados, carry her purse everywhere, and smile and wave to anyone that will lock eyes with her. She's a hard-worker that works everyday to achieve her goals in her therapies. 
We're asking you to donate to this great cause although the fun, lunch and family festival at the walk are all free.
There are a number of ways that you can be a part of "Mollie Moo's Crew" and provide support:
Walk with me in the Inclusion Walk on Saturday, October 13th at Arvest Ballpark  (Event 10-1pm, Walk at 11:30 am) be sure to register with Mollie Moo's Crew!

​Run in the Respect Run 5K on Saturday, October 13th at Arvest Ballpark (8 am)

Make an online donation here to Mollies Moo's Crew to support the Inclusion Walk and the DSCNWA

Tell others about the Inclusion Walk and the great work of the DSCNWA organization
October is Down syndrome Awareness month. We hope that you will join us, celebrate the many wonderful qualities and gifts of people with Down syndrome and walk with us. The Inclusion Walk is the main fundraiser for the Down Syndrome Connection of Northwest Arkansas.
Register for the Inclusion Walk
CLICK HERE to register for the Inclusion Walk on October 13th and to join Mollie Moo's Crew.  Even though registration is FREE, please register online before coming to the event.
Our Team Goal & Progress
We have raised $185.00 of our goal.