Maddox's Minions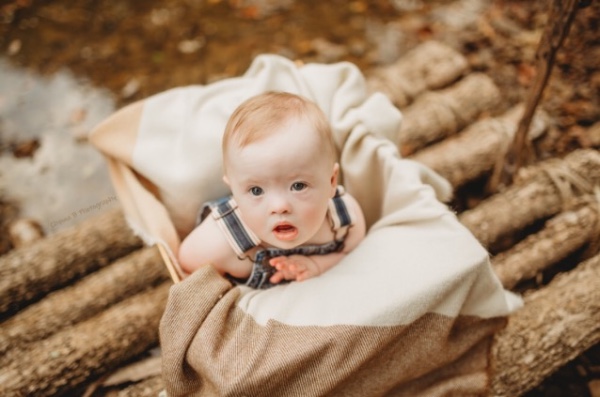 Hi, my name is Maddox and I'm only one year old. I'm very independent for only being one, and very dramatic and stubborn when it comes to doing therapy. But I always know how to have fun and laugh even when I'm upset. I find nature fascinating and enjoy being outside. I've recently become a big brother to my baby sister Ryann and can't wait to show her the ropes on everything when she gets a little older. 
I have overcome many obstacles in my first year. When born I was in the NICU for 48 days which included an Omphalocele repair at 1 week old. When I was 5 months old I spent 33 days in the PICU from pneumonia and RSV. When I was 8 months old I became a member of the "zipper club" and had my open heart surgery. Even with all these obstacles, I've still been eager to learn to crawl and sit-up, which we are soon to overcome. 
This is our first time participating in the Inclusion Walk but hope you can join us, Maddox's Minions, at Arvest Ballpark in Springdale, AR on October 13th at 11:30am. 
With Maddox being 1, our fundraising goal is $100, but hope to raise more with the support of our family and friends. Funds will go to the Down Syndrome Connection of Northwest Arkansas (DSCNWA), which will help many families like ours in the future.
If you would like a team shirt, contact my mom or dad to purchase one. 

There are a number of ways that you can be a part of Maddox's Minions and provide support:
Walk with me in the Inclusion Walk on Saturday, October 13th at Arvest Ballpark  (Event 10 - 1 pm, Walk at 11:30 am)

Run in the Respect Run 5K on Saturday, October 13th at Arvest Ballpark (8 am)

Make an online donation here to my team to support the Inclusion Walk and the DSCNWA 

Tell others about the Inclusion Walk and the great work of the DSCNWA organization 
Thank you for the continuous love and support! 
Maddox
Register for the Inclusion Walk
CLICK HERE to register for the Inclusion Walk on October 13th and to join Maddox's Minions.  Even though registration is FREE, registration is required to enjoy the complimentary lunch.  
Our Team Goal & Progress
We have raised $125.00 of our goal.