Lalito's Crew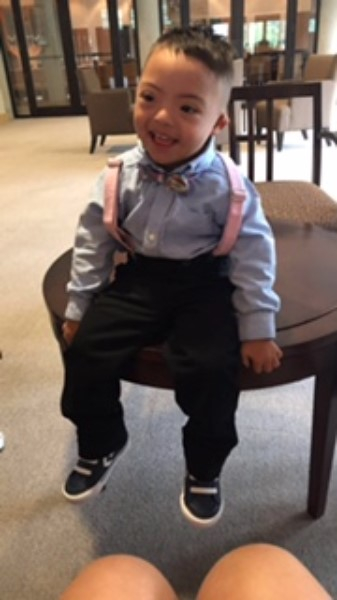 He just turned 3 years old this past July!
Lalito has been passing for lots of things at first we we got the notice that he's coming with down syndrome we was more than ready to welcome him not only like a special kid but the most beautiful blessing God send to us.
At he's 3 months old he got to open-hearth surgery he is a very strong kid and he's fine now
Lalito it's a very kind, he loves everyone! He loves sending kisses to girls and  loves animals too, he's passion it's soccer and cars
He loves! when dad give him rides on go-cart he has at home, and mom it's he's favorite person.
I'm he's aunt Gabby he's parents doesn't speak fluent English but that don't detain them to involve Lalito on this kind of events ️ so I'm doing it for them he's the love of my life! He's so adorable and the most handsome little person I ever know. He is a the most marvelous kid we know!
There are a number of ways that you can be a part of "Lalito's Crew" this year and provide support:
Walk with me in the Inclusion Walk on Saturday, October 13th at Arvest Ballpark  (Event 10 - 1 pm, Walk at 11:30 am)

​Run in the Respect Run 5K on Saturday, October 13th at Arvest Ballpark (8 am)

Make an online donation here to my team to support the Inclusion Walk and the DSCNWA

Tell others about the Inclusion Walk and all that DSCNWA does for individuals and families with Down syndrome
October is Down syndrome Awareness month. We hope that you will join us, celebrate the many wonderful qualities and gifts of people with Down syndrome, and walk with us. The Inclusion Walk is the main fundraiser for the Down Syndrome Connection of Northwest Arkansas. We hope to see you out there with us!  (Even though it's free, please be sure to register so we know you are coming!) No matter how you decide to support us, we want to thank you. 
 Thank you,
Gabby, Edward and Family
Register for the Inclusion Walk
CLICK HERE to register for the Inclusion Walk on October 13th and to join Lalito's Crew.  Even though registration is FREE, registration is required.  
Our Team Goal & Progress
We have raised $0.00 of our goal.