Jase's Monster Squad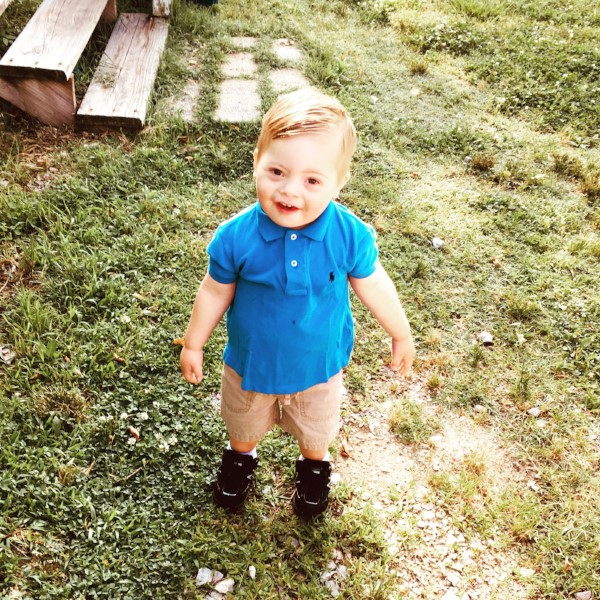 Hi! My name is Jase! Believe it or not, I'm just like any other little boy you'd meet! My tank is always full and I NEVER run out of energy! I love to run and yell, to climb on things and tear stuff down! I love bat man and fire trucks! I pull my sisters hair and give them lots of hugs! 
When I was born I surprised my family with the blessing of Down syndrome. They were really scared at first, all their hopes and dreams of me being a typical baby boy disappeared. They thought about how heartbreaking it could be and they were scared for me. But they figured out that Down syndrome isn't that bad. In fact, it's kind of amazing.
Those first few months were still pretty rough. I had to eat a lot to keep my weight up because my body was working super hard. I had a huge hole in The middle of my heart and I spent 2 weeks in little rock at just 3 months old for open an heart surgery. My family was very scared but we got through it and now my heart is totally healthy. Somethings take me a little longer to accomplish but when I do, no matter how big or small, my family always gets super excited! We celebrate the small stuff too! I taught them that!
I have a big personality and I am not shy about sharing it. I love to make new friends. I have a lot of friends and family who didn't really know what Down syndrome was until I was born. I helped push them to do some research. My mom still does research. She is constantly reading articles and talking to other moms and following stories of other babies my age that were also blessed with Down syndrome. She loves it. Those babies and their Mommas have become her family. They have been so supportive for her and helped her learn a lot about me. 
My daddy is pretty much my most favorite person in the world! I follow him around and watch him when he's busy. Sometimes I try to help! So far this summer, dad has taught me how to work on cars and ride with him on the lawn mower! He's also teaching me to be a good boy and to be kind to others! My dad's a pretty great guy, I love him a lot! 
My smile is contagious and my laugh is addicting. Everywhere I go I feel like a celebrity  somebody always has to stop to look at me and tell me how precious and cute I am. I eat it up, I love attention.  I also love meeting new people and showing them how big and awesome my personality is. I'm looking forward to meeting a lot of new friends at the Inclusion walk this year!  Thanks for reading my story! I hope I see you at the walk!
There are a number of ways that you can be a part of "Jase's Monster Squad" and provide support:
**Walk with me in the Inclusion Walk on Saturday, October 13th at Arvest Ballpark  (Event 10-1pm, Walk at 11:30 am)
​**Run in the Respect Run 5K on Saturday, October 13th at Arvest Ballpark (8 am)
**Make an online donation here to "Jase's Monster Squad" team to support the Inclusion Walk and the DSCNWA
**Tell others about the Inclusion Walk and the great work of the DSCNWA organization
October is Down syndrome Awareness month. We hope that you will join us, celebrate the many wonderful qualities and gifts of people with Down syndrome and walk with us. The Inclusion Walk is the main fundraiser for the Down Syndrome Connection of Northwest Arkansas.
Thank you,
Jase's Monster Squad
Register for the Inclusion Walk
CLICK HERE to register for the Inclusion Walk on October 13th and to join Jase's Monster Squad.  Even though registration is FREE, you must register online before coming to the event.
Our Team Goal & Progress
We have raised $181.00 of our goal.