Hope's Hippies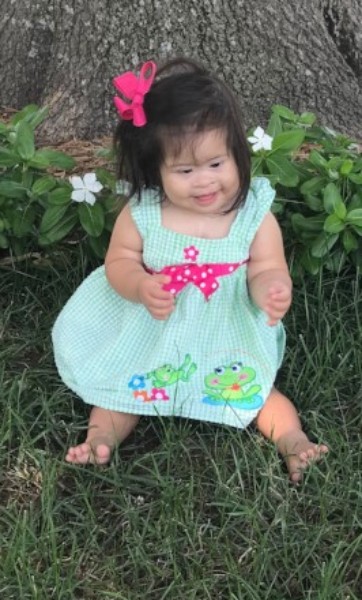 Hope is 16 months old and purely a bundle of joy to our family! Our story is a bit unique because God told us through Jeremiah 29:11 that we would be adopting a baby girl with Down Syndrome and name her Hope. It was a huge decision for us to start over with another child after already raising four boys with an 11 year old girl still at home.  We are so glad we decided to obey God. We met Hope on the day of her birth and finalized her adoption 3 days after her first birthday! In addition to Hope being diagnosed with Trisomy 21 prenatally, she also had an AVSD balanced complete heart defect. So the first five months was a lot of joy mixed with fear of the unknown until she had her open heart surgery on September 12th in 2017. Now she is a good eater, learning to crawl, talk, sign, and starting to find her way around her world! She amazes us every day! She is most definitely our prissy and sassy girl! We are competely blessed to be chosen to be Hope's parents!
There are a number of ways that you can be a part of "Hope's Hippies" and provide support:
Walk with me in the Inclusion Walk on Saturday, October 13th at Arvest Ballpark  (Event 10 - 1 pm, Walk at 11:30 am)

​Run in the Respect Run 5K on Saturday, October 13th at Arvest Ballpark (8 am)

Make an online donation here to my team to support the Inclusion Walk and the DSCNWA

Wear your favorite Tie Dye shirt! If you need one, contact my mom or dad and we can make one for you at cost!

Tell others about the Inclusion Walk and the great work of the DSCNWA organization
October is Down syndrome Awareness month. We hope that you will join us, celebrate the many wonderful qualities & gifts of people with Down syndrome, & walk with us. The Inclusion Walk is the main fundraiser for the Down Syndrome Connection of Northwest Arkansas. No matter how you decide to support us, we want to thank you. DSCNWA has made a huge difference for our family & has provided us support in many ways. We hope to see you out there!  (Just be sure to register so we know you are coming!)

Thank you again for being a part of Hope's Hippies & for your support, encouragement & love.
With much appreciation,
The Tillman family
Register for the Inclusion Walk
CLICK HERE to register for the Inclusion Walk on October 13th and to join Hope's Hippies.  Even though registration is FREE, registration is required to enjoy the complimentary lunch.  
Our Team Goal & Progress
We have raised $160.00 of our goal.