Finley Unlimited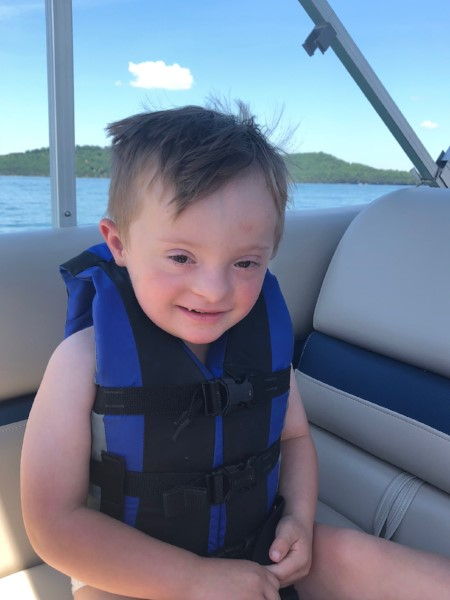 Greetings Fin's Fans!
It's time to get excited about Finley Unlimited 2018!  Once again, our team will walk to support INCLUSION and AWARENESS for persons with Down syndrome.  We are thrilled to walk again this year with the Down Syndrome Connection of Northwest Arkansas (DSCNWA).  Our team members have always been so supportive both near and far - and we know this year to be no different! 
Finley started KINDERGARTEN in August and continues to rise to meet his goals and overcome obstacles.  We are so proud and honored that God chose us to be his family and are thankful for the opportunity to support DSCNWA to share our perspective with others.  One specific service that DSCNWA provides to families is a gift basket when a child and their family receives a diagnosis of Down syndrome.  Beyond meeting a few material needs, these baskets provide connection and hope to families who face unknowns.  Many families hear "I'm sorry" with a diagnosis, something that we are determined to change and turn into a "CONGRATULATIONS, you are about to embark on the most incredible journey!" 
Please join us in person or in spirit (a virtual walker and team member)!  We will walk at Arvest Ballpark in Springdale, AR on October 13th at 11:30am.  
We certainly understand if your physical or financial presence is not possible.  Our true goal is to do our small part to celebrate the infinite value that all persons with Down syndrome bring to the world.  As always, our team t-shirts are available. "Fin's Fans" will be listed on the back for those who choose to participate by September 24th.  Due to your overwhelming support and the growth of our team, t-shirt orders will be handled differently this year.  Please visit the link below to order a shirt – adult and children's sizes are available.  You will have the option to have your shirt shipped to you directly or we can deliver to you on race day or the next time we see you ("group pass-out" option).   Please note that the cost of the shirt is separate from the walk donations, which you can do directly through this page.  For every shirt that is ordered, we will donate $5.00 directly to DSCNWA.
T-SHIRT ORDERS:  https://www.b-unlimited.com/collections/finley-unlimited
Any donation you make will go directly to support education, advocacy and inclusion for Finley and his peers with Down syndrome. 
We are so thankful for your constant support and encouragement of our family!
Blessings to all!
Lisa, Lincoln, Finley, Griffin and Palmer
Register for the Inclusion Walk
CLICK HERE to register for the Inclusion Walk on October 13th and to join Finley Unlimited.  Even though registration is FREE, you must register online before coming to the event.
Our Team Goal & Progress
We have raised $5,335.00 of our goal.