Claire's Care Bears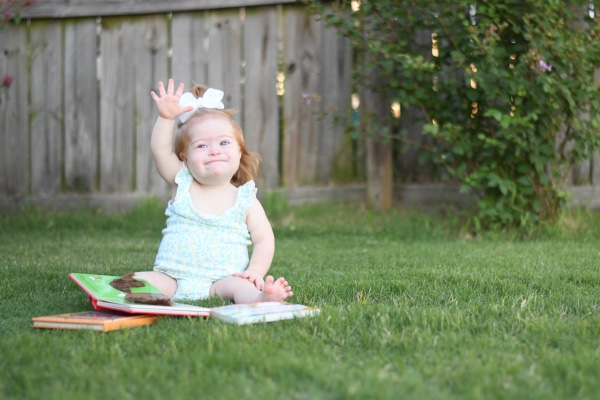 Hi! I'm Claire, and I'm 19 months old. My parents would say I'm quite the social butterfly with a huge personality! I love smiling and waving to everyone I meet. I may even blow you kisses or make funny faces to get you to laugh! I love to babble, and I'm trying really hard to learn sign language! I enjoy listening and dancing to music. I love my baby dolls, books, being outside, and playing with my big sister Abigail! 
I surprised everyone when I was born, by having Down syndrome. At first, my parents were really scared and had a lot of questions about my diagnosis. It was a rough first year with 22 days in the NICU, and then several hospitalizations for upper respiratory distress. I proved time and time again how strong I am! I have come a long way in 19 months. I attend Kids First in Lowell, and I work really hard during therapy sessions! I have made new friends, and because of me, my parents have met some amazing people.
During my NICU stay, one of the biggest blessings was the outreach of the Down Syndrome Connection of Northwest Arkansas (DSCNWA). This group not only came by and visited, but provided us with resources and support where we needed it. With their help, and because of our friends/family, my parents never felt alone embarking on this new journey.
There are a number of ways that you can be a part of "Claire's Care Bears" and provide support:
Walk with me in the Inclusion Walk on Saturday, October 13th at Arvest Ballpark  (Event 10 - 1 pm, Walk at 11:30 am)

Run in the Respect Run 5K on Saturday, October 13th at Arvest Ballpark (8 am)

Make an online donation here to my team to support the Inclusion Walk and the DSCNWA

Tell others about the Inclusion Walk and the great work of the DSCNWA organization
October is Down syndrome Awareness month. We hope that you will join us, celebrate the many wonderful qualities & gifts of people with Down syndrome, & walk with us. The Inclusion Walk is the main fundraiser for the Down Syndrome Connection of Northwest Arkansas. We are excited to see Claire take a few steps this year and WALK across the finish line!  No matter how you decide to support us, we want to thank you. DSCNWA has made a huge difference for our family & has provided us support in many ways. We hope to see you out there!  (Just be sure to register so we know you are coming!)
Thank you again for being a part of "Claire's Care Bears" & for your support, encouragement & love.
Much Love,
Claire & Family
Register for the Inclusion Walk
CLICK HERE to register for the Inclusion Walk on October 13th and to join Claire's Care Bears.  Even though registration is FREE, please register online before coming to the event.
Our Team Goal & Progress
We have raised $900.00 of our goal.