Check out our calendar of events below!
State of the Organization: DSCNWA
Saturday, January 18, 2020 9:00 am - 11:00 am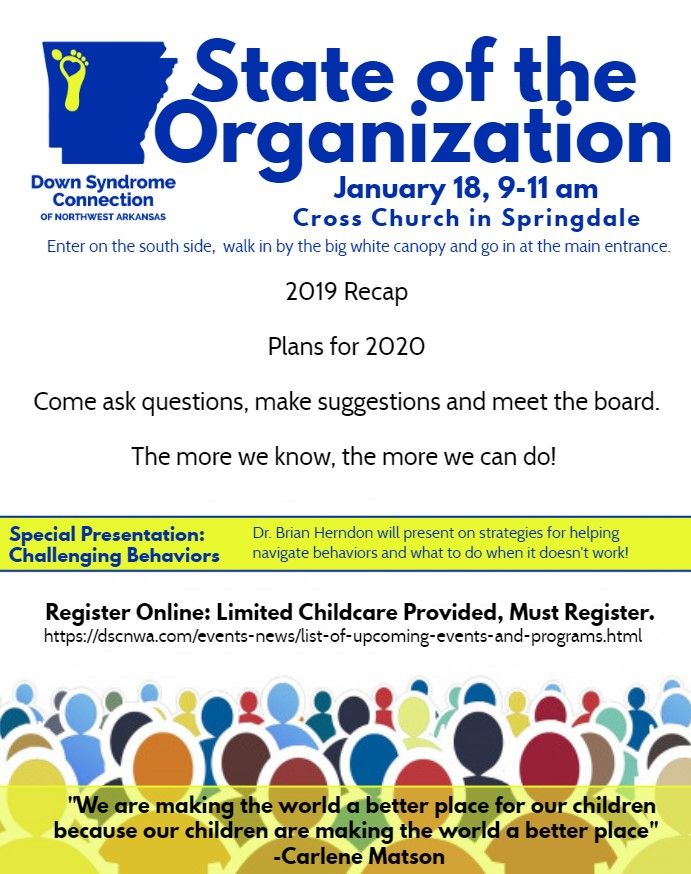 Location:
Cross Church in Springdale
Description:
State of the Organization and Presentation on Strategies to Manage Challenging Behavior.

Brian Herndon will be presenting on possible reasons for behavior, strategies for helping your child navigate behaviors and what to do when it doesn't work! Brian is an education professor, 6 year principal and fellow Ds dad is coming to teach us what we need to know about keeping our sanity while parenting a child with Down syndrome through challenging behaviors.

State of the Organization- we are here to help you. We want to be transparent and accessible. Come and hear about what we accomplished in 2019 and our goals for 2020. Come! Meet the board. Ask questions. Make suggestions. Express concerns. Find out how you can help. We are here to support YOU and YOUR families. So we need YOU to tell us how to do that best. The more feedback we hear, the more we know. The more we know, the more we can do.

Cross Church in Springdale 1709 Johnson Rd, Springdale AR
Enter on the south side, walk in by the big white canopy and go in at the main entrance.

Babysitting provided for limited number. Must register so we can plan.

Register at:
https://dscnwa.com/events-news/event-calendar.html/event/2020/01/18/state-of-the-organization-dscnwa/275790
This form stopped accepting submissions on January 18, 2020 9:00 am CST.