Check out our calendar of events below!
Suit Up For Success 16+ (Club 3-21 Program)
Tuesday, July 16, 2019 6:30 pm - 8:30 pm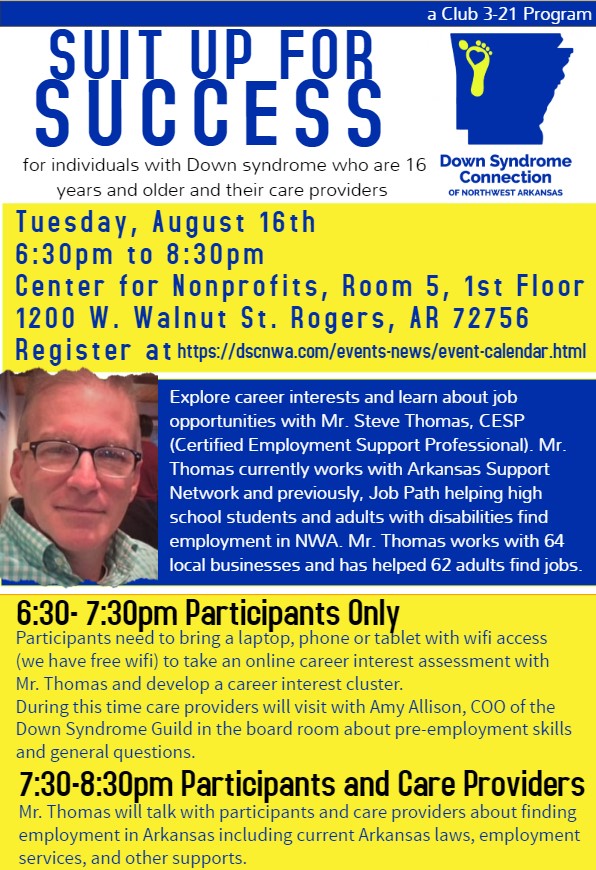 Location:
Center for Nonprofits, 1200 W Walnut Rogers, AR, Room 5, 1st Floor
Description:
Club 3-21 18+ (for this event 16+)

Explore career interests and learn about job opportunities with Mr. Steve Thomas, CESP (Certified Employment Support Professional). Mr. Thomas currently works with Arkansas Support Network and previously, Job Path helping high school students and adults with disabilities find employment in NWA. Mr. Thomas works with 64 local businesses and has helped 62 adults find jobs.

6:30-7:30 pm Participants Only
Participants need to bring a laptop, phone or tablet with wifi access (we have free wifi) to take an online career interest assessment with Mr. Thomas and develop a career interest cluster.
During this time care providers will visit with Amy Allison, COO of the Down Syndrome Guild in the board room about pre-employment skills and general questions.

7:30-8:30 pm Participants and Care Providers
Mr. Thomas will talk with participants and care providers about finding employment in Arkansas including current Arkansas laws, employment services, and other supports.


This form stopped accepting submissions on July 15, 2019 6:30 pm CDT.