Check out our calendar of events below!
Saturday, April 13, 2019 10:00 am - 11:30 am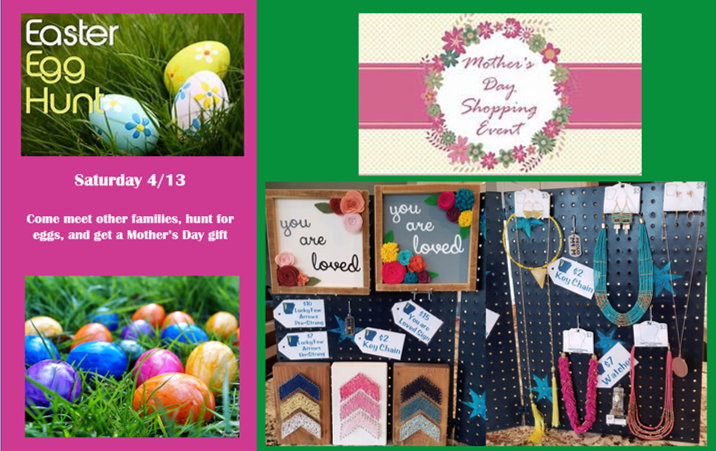 Location:
Sunshine School and Development Center- 3400 Woods Ln, Rogers
Description:
Bring your basket on Saturday, April 13th and join the Easter Celebration at Down Syndrome Connection of NWA's Annual Easter Egg Hunt.

The hunt is open to all individuals with Down syndrome and their families! Hunting will be divided into two age groups (0-3, 4+). Event starts at 10am at the Sunshine School & Development Center (3400 Woods Lane, Rogers) and will proceed Rain or Shine! Join us for an EGG-stra special time and get to know other families in our organization!

This year we will be having a special DSCNWA fundraiser where kids can get a $15 (or less) gift for their mom's for mother's day. At the event there will be a store where they can purchase a gift starting at $2 and have it be a surprise for mom!
-Proud mom key chain $2
-Necklaces $3
-Necklace and jewelry set $5
-Watches $7
-Unstrung Lucky Few string art $7
-Lucky Few String Art $10
-You are Loved Sign $15

Thanks for supporting DSCNWA! Wood art by Jill Smallwood and Cheylee Bingham. Thank you for your generosity!
This form stopped accepting submissions on April 13, 2019 10:00 am CDT.