Check out our calendar of events below!
Inclusion in Community Recreation Programs WEBINAR
Wednesday, June 13, 2018 6:00 pm - 7:00 pm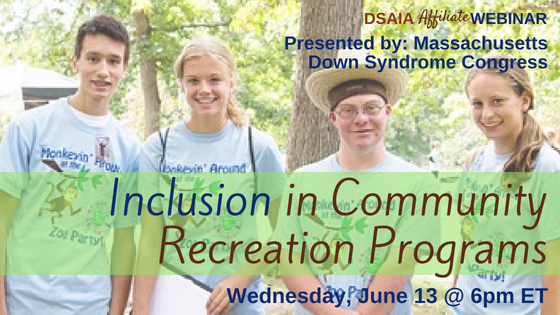 Description:
Looking to have your family member participate in a true inclusive manner in recreational programs? More and more camps, instructional classes, sports, rec programs or fitness facilities are striving to become inclusive for individuals with developmental or intellectual disabilities.

Lisa Drennan, owner of MERGE Diverse Abilities Inclusion Consulting will share her unique insight into the philosophies and best practices for successful recreational community inclusion.

Family members or direct support provider are welcomed to be part of the conversation exploring:
how to build a collaborative team with program providers,
handling roadblocks when seeking to access programming, and
your role in developing a strong relationship with coaches, instructors, or counselors of these recreation programs.
*** Want to view the webinar but can't watch it live? Register and receive the link to watch the recording! ***
MDSC members: $15
DSAIA members (available for your families): $15
General public: $25

MDSC members: Contact MDSC at info@mdsc.org to get your code.
DSAIA members: Click here to access information on the discount code.
Your presenter:Lisa Drennan
Innovative leader with a demonstrated commitment to building inclusive communities, possesses a specialty and experience in supporting individuals with diverse abilities. Strong professional, skilled in Diversity & Inclusion program development, nonprofit organizations, coaching, event management, and team building. Proficient in staff training creation and implementation and public speaking.
Presented by Massachusetts Down Syndrome Congress in partnership with Down Syndrome Affiliates in Action.