Step Up For Down Syndrome Walk  |  Details & Registration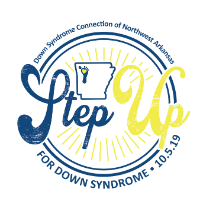 This year's Down Syndrome Connection of NWA annual walk, Step Up for Down Syndrome, will be held on Saturday, October 5th from 10am - 1pm (the walk itself will begin at noon). This years walk features music, entertainment, games, arts & crafts, community partner booths and more while we raise awareness for Down syndrome in our community!  The participants will gather for a fun, half mile walk around Arvest Ballpark in Springdale, AR. 
The walk will feature a silent auction again this year! Get ready to bid and take home some amazing items/packages!
Each year all the families of the Down Syndrome Connection of Northwest Arkansas (DSCNWA) gather their family and friends, to take part in a wonderful awareness walk. This event is the main fundraiser for DSCNWA, and it enables us to continue to grow the programs and services that we offer to our local families.
The Step Up for Down Syndrome Walk has three primary goals:
To promote acceptance and inclusion of people with Down syndrome
To raise funds to support our local families (by providing new parent baskets, education, support and family events throughout the year)
To enhance the position of the Down syndrome community, enabling us to positively influence local and national policy and practice
To donate on behalf of a team and support the Down Syndrome Connection of NWA, please visit the "Our Teams" page within the Step Up for Down Syndrome Walk section and select the team you would like to donate to.  
Our Fundraising Progress
We have raised $8,080.75 of our goal.