Graham Cracker's Backers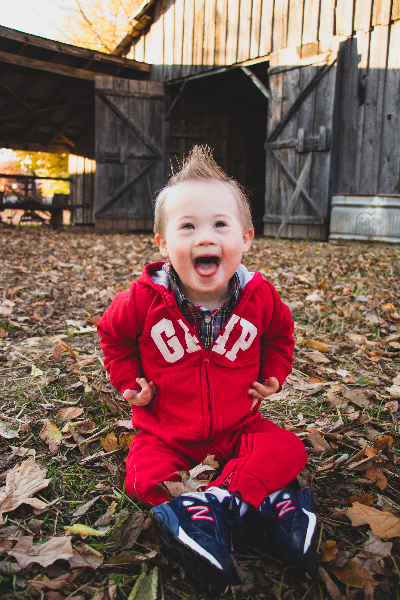 My name is Graham Michael Shaver and I am three years old!  Reading books and dancing are two of my favorite things to do.  I am a big brother to my two year old baby brother, Lincoln and I am showing him all the cool ways to have fun! We really love mowing the lawn with our new bubble mowers! My new favorite thing to do is to sit with a giant stack of books and read away! My cousins, Greyson and Charlotte love to play with me and I think they are the best! 

When I was growing inside my Mommy's belly the doctors told her that I would be born with Down Syndrome.  I was born nearly four weeks early and I had trouble breathing and had to have help from my doctors and nurses.  On day five, I got to take a helicopter ride to Arkansas Children's Hospital in Little Rock where I found out that I also have Hirschsprung's Disease.  My Dad and Mom lived with me in the hospital and have held my hand through every obstacle.  I am one lucky boy because I have a whole group of family members, friends & complete strangers who prayed for me (and continue to) and showered our family with support and love.  Thank you for loving me and my family.  Please be a part of my team, Graham Cracker's Backers! 
Graham Cracker's Backers will be raising money to help fund the Down Syndrome Connection of Northwest Arkansas (DSCNWA). My parents had a ton of questions about my diagnosis after I was born and DSCNWA visited with us and provided resources and support along the way. With their help, and because of many of you, my parents didn't feel so alone and for that, WE ARE GRATEFUL.
There are a number of ways that you can be a part of Graham Cracker's Backers and provide support:
Wear your Graham Crackers Backers t-shirt on October 5th (or ANY day in October!) and tag us on social media with the hashtags #GrahamCrackersBackers and #SpreadSmoreLove. This is going to be an amazing way for us to feel support on October 5th since the majority of our friends, family and supporters are not local to NWA.  

Make an online donation below to my team to support the Step Up for Down Syndrome Walk and the DSCNWA

Walk with me in the Step Up for Down Syndrome Walk on Saturday, October 5th at Arvest Ballpark  (Event 10 am - 1 pm, Walk at 12:00 pm)

Tell others about the Inclusion Walk and the great work of the DSCNWA organization
October is Down syndrome Awareness month. We hope that you will join us, celebrate the many wonderful qualities & gifts of people with Down syndrome, & walk with us. The Step Up for Down Syndrome Walk is the main fundraiser for the Down Syndrome Connection of Northwest Arkansas. We are excited to see Graham WALK for the FIRST TIME this year (who knows...he may run) and celebrate his strength!  No matter how you decide to support us, we want to thank you. DSCNWA has made a huge difference for our family & has provided us support in many ways. We hope to see you out there!  (Just be sure to register so we know you are coming!)
Thank you again for being a part of Graham Cracker's Backers & for your support, encouragement & love.

Love and kisses,
Graham
#SpreadSmoreLove
Register for the Step Up for Down Syndrome Walk
CLICK HERE to register for the Step Up for Down Syndrome Walk on October 5th and to join Graham Cracker's Backers. Registration is required to attend and enjoy the complimentary lunch.  
Our Team Goal & Progress
We have raised $100.00 of our goal.